5 Ways to Style Your Gantry this Festive Season
One of the most important spaces in a home is the kitchen, with interior designer Greg Natale believing that "The kitchen is much like the anchor point for the family." As fewer of us have separate dining areas, increasingly the kitchen has become a spot for hosting and entertaining as well as cooking and food preparation. A gantry is the perfect addition to help elevate your kitchen, not only providing a storage solution, but an aesthetic focal point. 
The festive season is officially underway, which not only means decorations are taking over the house, but you're likely to be opening up the home to visitors. So why not consider how your kitchen gantry can be used to further enhance the festive flair in the home? Here are some tips on how you can style it this holiday season:
1.  Lighting
Did you know you can install LEDs into your gantry? The frames are hollow to allow cable to pass. We often see them [Gantries are often] deliberately situated above kitchen islands and lighting is essential for this purpose. Guests very often flock to the island, chatting over a glass of wine while you're preparing food, so think about how you can install spots or ambient lighting [LED strips or downlights] to create atmosphere while allowing you to read recipes or prep food. If you're after something more temporary, use the bars and shelves of the Gantry to host some fairy lights for that sparkly, Christmassy vibe. 
2.  Plants 
Plants are able to bring a nice organic element to an otherwise quite industrial kitchen space. Organic or warm tones from the plants and flowers tends to add a beautiful vibrancy to kitchens, especially if you've favoured a neutral colour scheme. This Christmas, swap your succulents or fresh herbs for a more festive flair – wreaths, mistletoe, berried ivy or a poinsettia.
3.  Hanging Hooks 
If you have beloved kitchen utensils that you hate keeping locked away in cupboards and out of sight, you'll love how the Gantry enables the extra space to proudly display items, coupled with giving you that on-trend, modern-industrial 'cafe' vibe. Think about adding hanging hooks to your Gantry, turning your kitchen into a sophisticated gallery, likely to capture the eye. Hook rails with hooks are available in our shop-see accessories]  Over the holidays,  bring out other seasonal items that evoke Christmas dining – a nutcracker, carving fork and get your guests salivating at what lies ahead.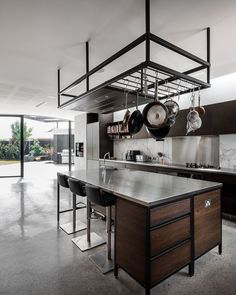 4.  Wine Glass Rack 
You can personalise your gantry to best suit your personal style, and show off what you love most in your kitchen – and for many of us, it's all about the wine!  Nothing says festivities like having a glass of wine (mulled wine if you're celebrating a White Christmas, or maybe a gin if you're in Australia!) with your friends and family. Installing a wine glass rack to your gantry will act as a stunning display piece, enabling you to show off your range of Riedel glassware, or Champagne flutes ready for the [a] bottle of bubbly on Christmas morning. 
5.  Customisable
The beauty of the Gantry is that you can put your own personal stamp on it – customized to best suit you and your style. There are many ways you can personalise your Gantry dependent on your room layout and size, and personal preference.  The brackets are adjustable for height, and length (depending on the chosen version). 
The taller variants have stainless steel cross bracing, to stabilise any pendulum swing. Make your Gantry unique to you by using new or recycled timber, perforated steel or glass in any thickness for the shelving. Whether it's displaying your usual kitchen items, or your special festive treasures, your Gantry is a vehicle for letting your personal style flow this Christmas. 
If you haven't purchased your gantry yet, have a look at our wide range and find your perfect gantry today!
https://casacielodesign.com/product-category/the-industrial-gantry/